Safeguarding and Online Safety
Springhill Catholic Primary School
SAFEGUARDING IS EVERYONE'S RESPONSIBILITY
Safeguarding Statement
Springhill is committed to safeguarding and promoting the welfare of children and young people and expects all staff and volunteers to share this commitment. Safeguarding is everyone's responsibility. All staff are fully trained in pupil safeguarding procedures, with regular updates and briefings.
If you have any serious concerns about your child or any other pupil at Springhill, please do not hesitate to contact the Designated Safeguarding Lead who knows who to contact for the best advice and help, and is experienced in using the appropriate degree of confidentiality.
The Designated Safeguarding Lead (DSL) for Springhill is:
Mrs Roxy Ashworth, Headteacher
The Deputy Designated Safeguarding Leads (DDSLs) are:
Mrs Jenny Hall
Mrs Helen Lacey
Mrs Sandra Keogh-Foy
Miss Holly Calver
Mrs Emily Reeves
The DSL or DDSLs may be contacted on 02380333954 or via email at info@springhillcatholic.net
If you have concerns about a child, you can speak to us. The NSPCC has lots of great information which can also help you:
https://www.nspcc.org.uk/keeping-children-safe/reporting-abuse/report/
The following school policies and procedures support pupil safeguarding and welfare: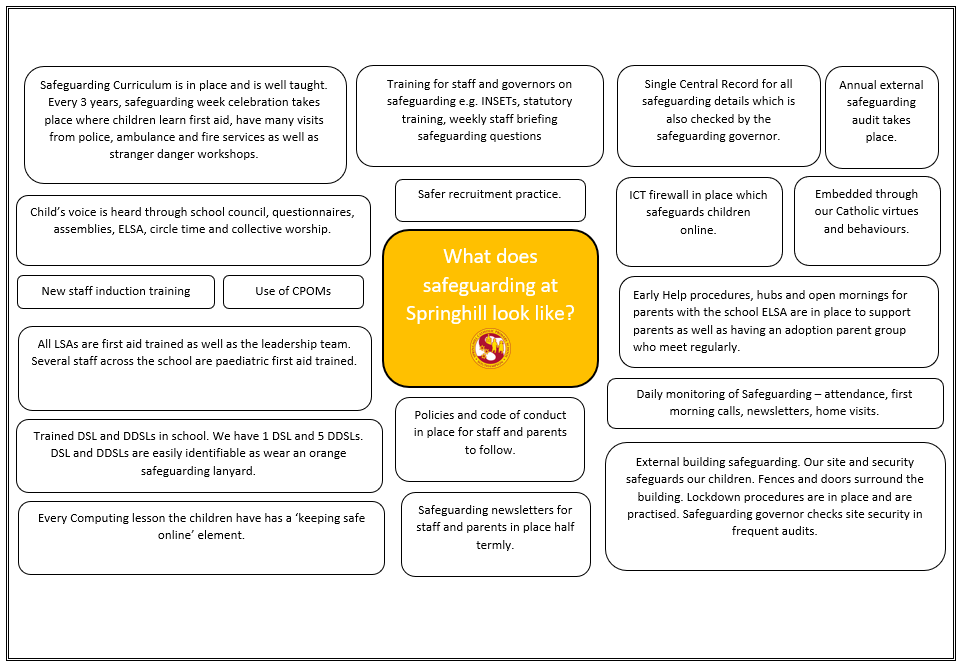 Online Safety Learning Resources
The DfE have updated their guidance for parents and carers to keep children safe online. This guidance contains resources for parents and carers to help keep their children safe online. Click to view the guidance: https://www.gov.uk/government/publications/coronavirus-covid-19-keeping-children-safe-online/coronavirus-covid-19-support-for-parents-and-carers-to-keep-children-safe-online#:~:text=It%20is%20important%20to%20have,in%20details%20and%20passwords%20safe.
It is fundamental that when your child is using the internet they stay safe. They should never give out any personal information such as their full name, address or phone number when they are online, no matter whom they think they are talking to.
It is important when using the internet, children remember to be SMART:
Safe – be safe on the internet.
Meeting – NEVER meet up!
Accepting – don't accept anything (it may be a virus).
Reliable – check your source.
Tell – Always tell someone when you don't feel safe.
Throughout Key Stage 1 and Key Stage 2, children are taught about online safety as part of the computing curriculum. Alongside this, online safety is embedded within all curricular subjects especially in English, PE and PHSE/RSE and through a variety of enrichment activities e.g. anti-bullying and safeguarding week. The school also uses assemblies to raise pupils' awareness of the dangers that can be encountered online and may also invite speakers to talk to pupils about this. All children sign an acceptable use of computing document which is display in the Computing suite.
Our computing lead runs a parent workshop where you can bring your child's phone along and she will show you how to put protective measures on their phone.
Below are some useful websites to you can look at with your child at home to support to help them learn more about internet safety and test their knowledge on using the internet safely:
https://www.internetmatters.org/resources/apps-guide/
https://www.nspcc.org.uk/keeping-children-safe/online-safety/parental-controls/
https://www.esafety.gov.au/parents/issues-and-advice/parental-controls